CDAG Award of Excellence


Congratulations Chandra Hodgson
Winner of the 2015 CDAG Award of Excellence in Curriculum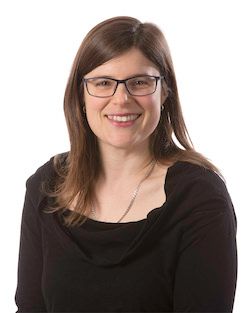 For the past five years, Chandra Hodgson has been working tirelessly to adapt and promote the use of case studies in teaching. After being trained in the method through Humber's Centre for Teaching & Learning, and recognizing that case studies – traditionally used only in the context of business education – could provide enormous, transformative benefits to the practice of teaching and learning across many academic disciplines, she developed curriculum that engages students by bringing into the classroom real-world problems that sharpen critical-thinking skills and encourage deep learning. As the faculty resource person for case studies at Centre for Teaching and Learning, she also began to offer intensive workshops open to faculty from across the sector. Chandra's innovative and award-winning work with case studies has made the method accessible to almost any academic discipline: the case study writing workshops and training have been adopted in programs such as Film & TV Production, Public Relations, and Police Foundations – disciplines in which the method is not traditionally used and teachable cases were not previously available. (She is currently helping develop the first multi-media case for the Police Foundations program, which will incorporate documentary film footage – another innovation.) To facilitate the adoption and use of case studies method, Chandra started a program to generate materials that interested faculty would need in their own practices: as the Case Studies Editor for Humber Press, she has helped create a library of cases that are open source and available to all college-level faculty. In 2014, she created and oversaw the first-ever College Case Conference, which saw 150 attendees from 9 different institutions. (A second is planned for May 2015.) And she in the process of applying for case program accreditation through SEDA so that Humber can offer internationally recognized certification in this teaching and learning method.
Chandra Hodgson's championing of the case study method has resulted in its widespread and growing adoption – not only across Humber College, but throughout the college system. To date, she has trained four separate cohorts representing 6 of Humber's 7 schools to write and teach cases, as well as faculty from 9 different institutions, resulting in an exponential increase in the number of students whose learning is enhanced by the uses of real-world cases. A specialized Community of Practice, open to Humber and nonHumber faculty, has been created to research other applications of the case study method, to develop study guides for in-class use and to share knowledge and expertise across disciplines.
Biography
A native of Burlington, Ontario, Chandra Hodgson did her undergraduate studies at Trent University before going on to complete a Master's in English Literature at York University, where she also began her teaching career as a Teaching Assistant. Chandra later taught at Johannes-Gutenberg University in Mainz, Germany, and then at the UNAN (Universidad Nacional Autonoma de Nicaragua) in Managua, Nicaragua. Back in Canada, she taught at George Brown College and Seneca College, before arriving at Humber ITAL, where she has taught in the English Department for 13 years. For the past 4 years, Chandra has been seconded to Humber's Centre for Teaching & Learning, where she is the faculty resource person for case teaching and case writing. She has completed workshops in case writing and teaching offered by the Ivey School of business and Harvard Business Publishing. In 2014, Chandra travelled to Austin, Texas, to accept a National Institute for Staff and Organizational Development Excellence Award in recognition of her work with developing and popularizing the case study method.
~ CDAG thanks everyone for their submissions and ongoing contributions. We look forward to the 2016 submissions for the second Award of Excellence. ~
About the CDAG Award of Excellence


The CDAG Award of Excellence publicly recognizes and celebrates individuals and teams who provide leadership in the ongoing development and sustainability of curriculum expertise in Ontario's colleges. One person or team is awarded this distinction each year.
In keeping with CDAG's mandate, eligible nominees must:
Demonstrate commitment to and knowledge of Curriculum Development, Design and/or Practice and its advancement
Demonstrate effective communication skills with colleagues.
Demonstrate the ability to enhance learning and stimulate critical thinking.
Inspire others to lead
In one of the following categories:
Research in the Scholarship of Teaching and Learning, Specific to Curriculum
Mentorship in Curriculum
Best practices in Curriculum, and
Innovation in Curriculum



.